Phil Lomax 2020 visit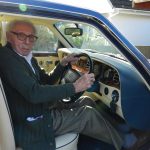 Over the years I have maintained contact with Frank Stubbs, through the exchange of seasonal greetings and such. All the more rewarding was visiting Frank in November 2020 whilst touring Cornwall.
A lot of you will remember Frank Stubbs, the engineering teacher in our days at Kynaston. He is now in his 90s and has been living in Cornwall since retiring from teaching. The passion he held for engineering, precision and quality that underpinned the values and skills he instilled in many us through his teaching are clearly in evidence in his home and the workshop he set up in his garage. The main purpose of the workshop was to build a scale replica of "No. 5006 – Tregenna Castle", a GWR 4073 Class locomotive.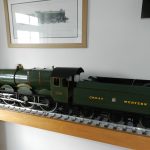 The magnificent locomotive, he has skilfully crafted, shown in the photographs is proudly displayed at his home. He told me this project took him 35 years to complete! That's a feat of dedication if ever there was! Every part is precision-made and finished to perfection.

Most of you will remember that Frank was a great Rolls Royce enthusiast when we were at school. Many a lesson would be exemplified by a quote from Henry Royce, such as: "quality is remembered long after the price is forgotten".
He has held on to that admiration of the "Royce" car. Len Clark, Deputy Head in QK days, told me a few years ago of the phone call he had received from Frank Stubbs in which Frank with much delight reported "I am behind the wheel driving my Rolls Royce"!
Frank proudly started up the engine of his "Royce" car, a Silver Spur, one of the last to be manufactured in Derby in 1996 and with whisper silence drove it out of the garage so I could take the photographs included here to share with you all. It is in pristine condition and a real tribute to the craftsmen that built it. Sadly he isn't able to drive it much nowadays but he maintains it in showroom condition, and I was allowed the privilege of sitting in it!
He did tell me with chuckle, of his last trip out around the country lanes near Truro, confronted by a tractor coming the other way, he was stuck, with no room to manoeuvre. The farmer reversed all the way back up the road so Frank could pass. Thanking him, Frank was greeted by a "you're welcome ma Lord"!
Phil Lomax, April 2020 (1964-1972)

Tim Watson recollection
When I was in the sixth form at Kynaston, Frank took us to Swindon for a tour of the British Rail works there. One of the processes was very interesting but there wasn't enough room for us all to stand and watch it. I stepped back a few feet and stood on a raised platform to get a better view. Unknown to me this was immediately below the path of an overhead gantry carrying wheels from the foundry to machine shop. With all the noise, and my concentrating on the demonstration, I was unaware of a wheel being moved less than two feet above my head.
BR's press officer must have taken a photograph and it was used for many years as an example of how not to conduct educational tours!
Tim Watson, April 2020 (1958-1965 then woodwork master)

Larger Photos in the Teacher Photo Library Here