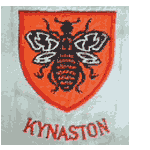 Introduction: The Polytechnic Middle Class School was launched in 1885. By 1887 it was known as The Polytechnic Intermediate Day School but was often called Polytechnic Boys' Day School, The Regent Street Polytechnic or variants thereof. After 1919 St Marylebone Polytechnic Secondary School was used. On gaining grammar status in 1948 it became Quintin School and, in 1969 it merged with Kynaston Boy's Secondary School becoming Quintin Kynaston School.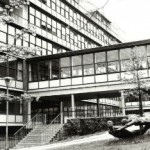 From small beginnings: In 1864 Quintin Hogg (the MP Lord Hailsham of St Marlebone's Grandfather) founded York Place Ragged School. With Arthur Fitzgerald Kinnaird (1847–1923, later 11th Baron Kinnaird) and Thomas Henry William Pelham (1847–1916), he rented rooms in York Place (formerly Alley) off The Strand for a boys' school. In 1882 he founded the Young Men's Christian Institute, renamed the Regent Street Polytechnic (incorporating the Royal Polytechnic Institution) in 1885. The polytechnic was later part of Polytechnic of Central London (PCL) and is now the University of Westminster. It is the largest provider of adult education in London, and its headquarters are still at the same location on Regent Street. Read more in the Quintin Kynaston Centenary Exhibition 1886-1986 pamphlet with key dates and other information.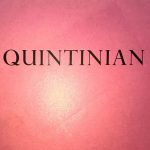 A worthy pastime?: Quintin School was evacuated to Minehead in Suffolk, using Minehead County School, during WWII. On its return, its rooms in the Polytechnic were being used for adult classes so pupils split between the Polytechnic Annexe in Little Titchfield Street and the Pulteney School Peter Street, Soho. A memorable 6th form student pastime was viewing the timing of prostitutes – noting how long it took them from "client" pick-up until they returned to their pitch. Not surprisingly the council thought this activity unsuitable for young minds – this was possibly part of the motivation to move to St. John's Wood as a matter of urgency.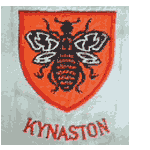 Why Kynaston?: Quintin Hogg invited a friend, John Edward Kynaston Studd to help him develop The Regent Street Polytechnic. Kynaston Studd (known as "JEK") became its Honorary Secretary and, on Quintin Hogg's death, in 1903 aged 58, he became President and Honorary Chairman. Kynaston Studd is said to be the first person to carry the flag for Great Britain (at the 1908 olympics). He was knighted in 1923 and became Lord Mayor of London in 1928. Along with his two brothers, Studd was a famous cricketer playing for Middlesex and the MCC. Kynaston Studd lived at 67 Harley Street and died in 1944 aged 85.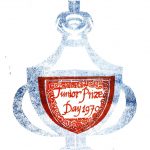 Kynaston School is born & Quintin School moves north: The London County Council (LCC) chose Edward D Mills & Partners (design) and Peter Shepheard (landscape) for the two schools bordered by Finchley Road and Marlborough Hill, St Johns Wood: one building was offered to Quintin (grammar) School (it needed to vacate its Regent Street premises occupied for 70+ years, due to overcrowding); the second school was named Kynaston Boy's Secondary School in honour of Kynaston Studd. Kynaston, sometimes incorrectly named Paddington Technical School, was opened as a "complimentary" school with the aim of forming a close working relationship with Quintin School. This was unsuccessful as both heads were "independently minded" leaders who saw no benefit from co-operation. Up to its 1969 merger with Quintin School, Kynaston operated as a comprehensive school. Read about the challenges: "Kynaston School – A Potted History" by head E.J. Catling in the final Kynaston School magazine (1969). Also read the highly interesting article about the history of the area going back to 1238 from London Gardens Online.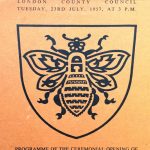 Kynaston School opening ceremony, aims & costs: Kynaston School was officially opened on 23rd July 1957 (although the first term commenced on Monday 9th September 1956!) by Dr. P.S. Noble, Principal of King's College London, with the Education Committee Chairman, Harold C. Shearman and the Mayor of St Marylebone, Cllr. John E. Guest. The initial, all male, student count was 560 (with expansion to 810), and staff consisted of a Head, a Deputy Head and 31 "Masters". The school build and kit out cost was £272,00 (£6.2M today) and Quintin School cost £185,000 to build (£4.2M today). The cost per pupil place was £250 (£5,700 today).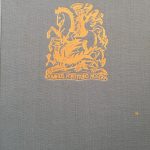 The Quintin School 1886-1956 – A Brief History: Much early history can be found in this 1957 book by L.C.B. Seaman, written to mark the move to St John's Wood after 70+ years in Regent Street. At the time, Lewis was senior history master and an ex-pupil at the Polytechnic Day Boys' School in the 1920s. Additional information up to approximately 2005 may be found in the The History Of Quintin Kynaston created by Quintin Kynaston School. Read some interesting comments relating to the book from Dick Curtis here.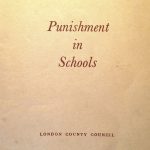 Punishment in Schools: Read London County Council's (LCC) May 1952 'Punishment in Schools' and the November 1959 'Corporal Punishment in Primary & Secondary Schools' pamphlets and understand why caining was a good thing!
Read about the early 1970's NUT strike action and student unrest in our blog item here.